Maurizio Sarri has stoked the fires ahead of Chelsea's Carabao Cup semi-final clash with Tottenham by suggesting Mauricio Pochettino needs to win a trophy.
The Tottenham manager has received praise for guiding Spurs into the top four in each of the last three seasons, but the north London side's last trophy came in 2008 when they won the League Cup under Juande Ramos.
Pochettino has admitted Spurs prioritise qualifying for the Champions League over winning domestic cup competitions, but Sarri says his opposite number is under pressure to end their draught.
He said: "He is a very good coach, one of the best at the moment. I agree that he has to win a trophy. I hope not this [one].
"For me, it's the same. Of course Pochettino is in Tottenham from four years ago. I am here from six months. Here in the first season, it is really very difficult for everybody."
Since arriving in England in the summer, Sarri's only encounter with Spurs ended in a humbling 3-1 defeat at Wembley – the Italian's first in the Premier League since joining Chelsea.
The head coach admitted he underestimated how important the rivalry with Tottenham is to Chelsea, but says he will not make the same mistake again.
Sari explained: "I saw my players in the dressing room after the match and they were destroyed, so I realised the match against Tottenham was important.
"After the match in the Premier League, I realised the real situation. I didn't know exactly the situation but now I think I know, so I will be ready. I hope the same for my players."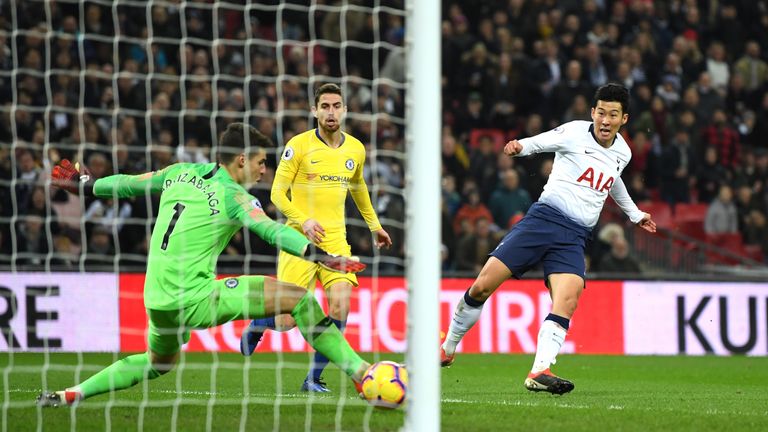 A potential final against Manchester City awaits the winner of Chelsea and Tottenham's semi-final, and Sarri – whose side beat Liverpool at Anfield in the third round – was keen to highlight the difficulty of his team's run in the competition.
"Everything is really very difficult," he said. "In the League Cup we played against Liverpool and now we play against Tottenham. Eventual final will probably be against Manchester City.
"It's like playing in the Champions League for the League Cup. The level of the opponent is really very high."
Source:Skysports